"I like this " has grown endlessly in the past few years. Thanks to all food blogs they have helped me to love food more and more. Halasina Beejada Huli/JackFruit Seeds Sambar is my childhood favorite. We sisters fought over the dining table just for the seeds in the sambar. Fed up by our fights, mom told us how many seeds she has cooked and our share of seeds! Even then we were like "can't we have more"? oops! 3 naughty girls were difficult to manage :D. Summer holidays, mangoes, jackfruit and fights had become synonymous at home.Here is how I make that tasty sambar for which we fought over each other.
You need the following :
Jackfruit Seeds : as much as you like. (deskin and cut into halves or whole)
Carrot : 1 big (peeled and chopped)
Potato: 1 big (peeled and chopped)
Onion: 1 big (peeled and chopped)
Tomato: 1 big (chopped)
Turmeric : 1 big pinch
Split pigeon peas : 1/2 cup (1 cup=100ml water)
Pressure cook all the above ingredients for 3 whistles. Pigeon peas must be soft, and rest of the vegetables must be cooked.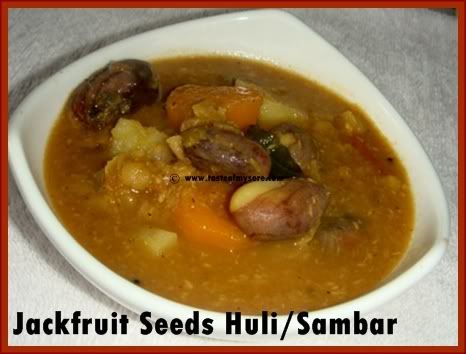 To grind :
Dry grated coconut/Wet coconut : 1/4 cup
Onion : 1 small piece
Sambar Powder : 1 tbsp
Grind the above to smooth paste.
Alternatively :
You can fry the following ingredients and grind with coconut & onion
Coriander Seeds : 1 tbsp
Cumin : 1/2 tsp
Red chillies : 4
Fenugreek seeds : 5
Chanadal : 1 tsp
Uraddal: 1tsp
Other ingredients :
Tamarind extract : 2 tbsp
Salt and Jaggery
In a pan pour the ground masala, tamarind extract, salt and jaggery till the raw smell dissapears. Add cooked peas and vegetables. Bring to boil and continue to boil on low flame for about 4-5 mins. Before you switch off the stove add few stalks of coriander leaves. Close the vessel and switch off the stove. Leave it aside for 10 minutes before you serve it with hot white rice.
ENJOI ......
************************************************************************************
ದೃಶ್ಯ : ಊಟದ ಮೇಜು
ಎ ಕತ್ತೆ
ನೀನೆ ....
ಮತ್ತೆ ನಂಗೆ ಕೊಡಲ್ಲ ನೀನು ಹಲಸಿನ ಬೀಜ ಅದಿಕ್ಕೆ
ಊ ಬಾ ಕೊಯ್ಯ ಮಿಂಣಿ ..........
....ಹೀಗೆ ಹೊಡೆದಾಡಿ ಕೊಂಡೆ ಊಟ ಮುಗಿಸುತ್ತ ಇದ್ವಿ ....ಬೇಸಿಗೆ ರಜೆಗಳಲ್ಲಿ
ಬಹುಶಃ ನನ್ನ ಮೆಚ್ಚಿನ ತಿಂಡಿ ಪಟ್ಟಿ ವಿವರ ಹನುಮಂತನ ಬಾಲದ ತರಹ ಉದ್ದ ಬೆಳಿತಾ ಇದೆ. ಎಲ್ಲಿ ಏನು ನೋಡಿದರು ಓ ಇದು ನಂಗೆ ಇಷ್ಟ ಅ ಅದು ನನ್ನ ಮೆಚ್ಚಿನ ........ಹೀಗೆ ಅಂತರ್ಜಾಲದಲ್ಲಿ ಎಲ್ಲ ಕಡೆ ಬರಿತೀನಿ. ಕೆಲವೊಮ್ಮೆ ನಂಗೆ ನಾನೇ ಕೇಳಿಕೊಂಡಿದ್ದು ಉಂಟು "ನಂಗೆ ಏನು ಇಷ್ಟ ಇಲ್ಲ ?" ಉತ್ತರ ಮಾತ್ರ ಇನ್ನು ಸಿಕ್ಕಿಲ್ಲ ರೀ ......ಇನ್ನು "ಯೋಚನಾ ಸ್ಥಿತಿ " ಯಲ್ಲೇ ಇದೆ ಮನಸ್ಸು ..ಬಹುಶಃ ಅದಕ್ಕೆ ಗೂಗಲ್ ನಷ್ಟು ವೇಗವಾಗಿ ಕೆಲಸ ಮಾಡೋ ಅಷ್ಟು ಕೆಪಕಿಟಿ ಇಲ್ಲ
ಇನ್ನು ನನ್ನ ಮನಸ್ಸು ಒಂದು ಪಟ್ಟಿ ತಯಾರು ಮಾಡುವುದರ ಒಳಗಾಗಿ ಇನ್ನೊಂದು "ನಂಗೆ ಇಷ್ಟ" ಪದಾರ್ಥ ಸೇರಿಸಿ ಬಿಡ್ತೇನೆ ಇಲ್ಲಿ

ಹಲಸಿನ ಬೀಜದ ಹುಳಿ
ಬೇಕಾಗುವ ಪದಾರ್ಥ :
(೧ ಬಟ್ಟಲು = ೧೦೦ ಮಿಲಿ ನೀರು ಹಿಡಿಸುತ್ತೆ)
ಹಲಸಿನ ಬೀಜ : ನಿಮಗೆ ಇಷ್ಟವಾದಷ್ಟು(ಸಿಪ್ಪೆ ತೆಗೆದದ್ದು )
ಕ್ಯಾರೆಟ್ : ೧ (ಹೆಚ್ಚಿಕೊಳ್ಳಿ )
ಆಲೂಗಡ್ಡೆ : ೧(ಹೆಚ್ಚಿಕೊಳ್ಳಿ )
ಈರುಳ್ಳಿ : ೧ (ಹೆಚ್ಚಿಕೊಳ್ಳಿ )
ಟೊಮೇಟೊ : ೧(ಹೆಚ್ಚಿಕೊಳ್ಳಿ )
ತೊಗರಿಬೇಳೆ : ೧/೨ ಬಟ್ಟಲು (೧ ಬಟ್ಟಲು = ೧೦೦ ಮಿಲಿ ನೀರು ಹಿಡಿಸುತ್ತೆ)
ಹರಿಶಿನ : ೧ ಚಿಟಿಕೆ
ಈ ಎಲ್ಲವನ್ನು ಕುಕ್ಕರ್ ನಲ್ಲಿ ಬೇಯಿಸಿಕೊಳ್ಳಿ.
ರುಬ್ಬುವುದಕ್ಕೆ
:
ಒಣ ಕೊಬ್ಬರಿ /ಹಸಿ ಕೊಬ್ಬರಿ : ೧/೪ ಬಟ್ಟಲು (ತುರಿದದ್ದು)
ಒಣ ಮೆಣಸಿನಕಾಯಿ : ೪ (ಬ್ಯಾಡಗಿ ಮಾತು ಗುಂಟೂರು ಮಿಕ್ಸ್)
ಈರುಳ್ಳಿ : ಸಣ್ಣ ಹೋಳು
ಉದ್ದಿನಬೇಳೆ : ೧ ಸಣ್ಣ ಚಮಚ
ಕಡಲೆಬೇಳೆ : ೧ ಸಣ್ಣ ಚಮಚ
ಕೊತ್ತಂಬರಿ ಬೀಜ : ೧ ದೊಡ್ಡ ಚಮಚ
ಜೀರಿಗೆ : ೧/೨ ಸಣ್ಣ ಚಮಚ
ಮೆಂತ್ಯ : ೫ ಕಾಳು
ಉದ್ದಿನಬೇಳೆ ಇಂದ ಹಿಡಿದು ಮೆಂತ್ಯದ ವರಗೆ ಪದಾರ್ಥಗಳ್ಳನ್ನು ಹುರಿದು ಇಟ್ಟುಕೊಳ್ಳಿ
ನಂತರ ಅದನ್ನು ಕೊಬ್ಬರಿ, ಈರುಳ್ಳಿ ಜೊತೆ ನುಣ್ಣಗೆ ರುಬ್ಬಿಕೊಳ್ಳಿ
ಇಸ್ಟೆಲ್ಲಾ ಏನಪ್ಪಾ ಹುರಿದು ರುಬ್ಬೋದು ಅಂತ ಅನಿಸಿದರೆ ೧ ದೊಡ್ಡ ಚಮಚ ಹುಳಿ ಪುಡಿ, ಕೊಬ್ಬರಿ, ಮತ್ತು ಈರುಳ್ಳಿ ಹಾಕಿ ನುಣ್ಣಗೆ ರುಬ್ಬಿಕೊಳ್ಳಿ
ಇತರೆ ಪದಾರ್ಥ
:
ಹುಣಸೆಹುಳಿ - 2 ದೊಡ್ಡ ಚಮಚ
ಉಪ್ಪು
ಬೆಲ್ಲ
ಒಗ್ಗರಣೆ
ವಿಧಾನ :
ಸಾರು ಮಾಡುವ ಬಟ್ಟಲಿಗೆ ರುಬ್ಬಿದ ಖಾರ ಹಾಕಿ ಸ್ವಲ್ಪ ಹೊತ್ತು ಬೇಯಿಸಿಕೊಳ್ಳಿ. ನಂತರ ಬೇಯಿಸಿದ ಬೆಲೆ ತರಕಾರಿ ಹಾಕಿ. ಹುಣಸೆ ನೀರು, ಒಗ್ಗರಣೆ, ಉಪ್ಪು ಹಾಗು ಬೆಲ್ಲ ಹಾಕಿ ಕುದಿಸಿ. ಓಲೆ ಆರಿಸುವ ಮುಂಚೆ ಒಂದೆರಡು ಕೊತ್ತಂಬರಿ ಸೊಪ್ಪಿನ ದಂಟು ಹಾಗು ಹೆಚ್ಚಿದ ಕೊತ್ತಂಬರಿಸೊಪ್ಪು ಹಾಕಿ ನಂತರ ಓಲೆ ಆರಿಸಿ. ಬಟ್ಟಲಿನ ಮೇಲೆ ತಟ್ಟೆ ಮುಚ್ಚಿ ೧೦ ನಿಮಿಷ ತಣ್ಣಗಾಗಲು ಬಿಡಿ ನಂತರ ಅನ್ನ ದೊಂದಿಗೆ ಬಡಿಸಿ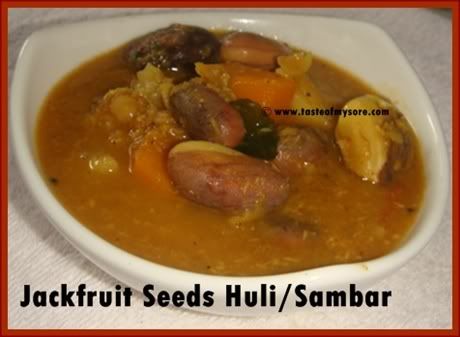 Before I sign off, let me remind you all about
SWC-Soups
. Neha of
easyntastyrecipes
is the guest host for the month of
Feb
. Please send your entries to her before
9 March 2009
. We would love to add your soup recipes to our 'healthy-meal' plan.
SWC-Meals on Wheels
was announced little ahead of time as I have some work in April and may not have enough time to do round ups also there won't be any SWC-event in the month of April. I apologise if this parallel anouncement has created any confusion.