Sagari's post on Vankaya Pulugura brought back many fond memories associated with it. Our way of making Pulugura was slightly different and also ingredient had few additions. I think every one cooks according to their taste. V.Pulugura was my grandmother's favorite followed by my dad's. Dad says 'it tastes yumm with a dollop of curd over it'. My dear hubby drank the left over pulugura without rice :D. He bought a bag of brinjals over the weekend and he is now 'sleeves up' for next batch of pulugura :)) Here you go with a simple yet flavorful brinjal/Vankaya Pulugura:
Brinjal : 1 big (purple brinjal was what I used, you can use which ever variety is available)
Onion : 1 big (chopped into big chunks)
Tomato: 1 big (chopped into big chunks)
Coriander Leaves : 1/2 cup (chopped)
Green Chillies : 8
Togaribele/Tuvar dal/deskinned split pigeon peas : 1/2 cup
Turmeric : 1 pinch
Tamarin Juice : 2-3 tbsp
Seasoning :
Oil : 1tbsp
Mustard seeds : 1tsp
Asafoetida/Hing : 1 pinch
Red Chillies : 1 (broken)
Curry Leaves : few
Kadalebele/chana dal : 1 tsp
Uddinbele/Urad dal : 1tsp
Pressure cook chopped brinjals, onion, tomato, chillies, coriander, toordal and turmeric with enough water. We do not add extra water at a later stage.
Once the pressure comes down, take out the vessel and run hand blender for 30 seconds or mash it using majjige kolu/with the back of the spoon. The intention is to mix the ingredients.
Add tamarind juice and salt.
Take a deep pan and heat a tbsp of oil. Add mustard seeds followed by a pinch of hing. When mustard stops crackling add red chillies, curry leaves and dals. When dals turn gold color add the mashed ingredients. Bring to boil. Check for salt, adjust if required. Switch off the stove, cover and keept it for next 10 mins till the flavors settle down.
Serve hot with rice.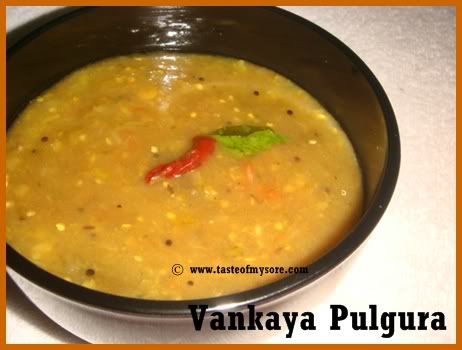 I tried
Carrot Malai/ Payasa from Chitra Amma's blog
. I just used cashewnuts instead of almonds mentioned there. It was delicious. Thanks Chitra Amma for sharing your recipe with us.