Wishing all women who celebrate Gowri Habba today a very happy day! Gowri pooja/prayer is offered to goddess Gowri and pray for the well-being of the family. Also, on this day Taste of Mysore celebrates it's 100th post...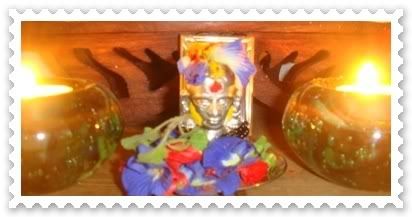 For all Kannadigas..Swarnagowri vrata pooja vidhana can be found here..
http://www.kannadaaudio.com/Songs/Devotional/home/SwarnaGowriVratha.php
I had made chanadal and rice payasam. Here is how we make it ..
You need the following :
Rice : 1 cup
Chanadal : 3/4cup
Pressure cook both of them with 3 cups of water.
Grind to smooth paste :
grated fresh coconut (2tbsp), jaggery(2cups for a sweeter version or 1cup for tooth friendly version), poppy seeds (soaked in water for atleast 20mins), 1 pod of cardamom.
If you do not get/have poppy seeds substitute with soaked rice+cashews ..1tsp each..soaked at least for 20mins
Add the ground paste to rice and dal, add little more water to dilute it. bring it to boil and serve garnished with dry fruits..I have fried dry fruits in ghee and then added to the payasam.