We love Ambode/Dal Vada/Paruppu Vada what ever you call them. People who are Sapsige soppu/Dill leaves fanatics would consider adding them to Ambode to give extra taste and aroma to it. If you have not yet tried adding Sapsige soppu/fresh dill leaves, I reccommend you to try it soon....Few of my friends whom I invited home for Navaratri liked it and asked for its recipe so is this post. :)
You need :
Kadalebele/Chanadal - 2 Cups (1cup=100ml)
Green Chilli - 8 (adjust according to your spice levles)
Dill Leaves - 3/4 cup packed (washed and chopped)
Onion - 1 big or 2 small (chopped into small pieces)
Salt
Oil for deep frying
1.Soak Chanadal for 4 hrs.
2.Once it is properly hydrated, take a fistfull of chanadal and keep aside. Remove water from dal.
3.Take remaining of dal, green chillies and salt and blend it to a corase mix.
4.Remove it into a clean vessel, add the fistful of chanadal that you set aside, chopped onion and dill leaves.
5.Taste the mixture for salt.
6.Take a small portion of the mixture and flatten it into 2" disc in your palm.
7.Deep fry them in hot oil till brown.
8.Serve Hot with Coffee or Tea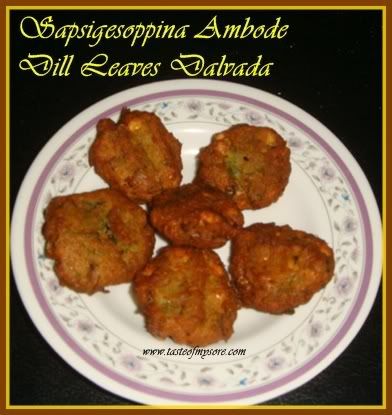 To Make Mosaru Ambode
1.Let the Vadas cool down. I usually set it aside for 2 hrs.
2.Beat thick curds. Dunk vadas in curds and leave it in the refrigerator for next 10-12hrs. Yogurt should be in large quantity. Add little water and beat the curds so that it is of pourable consistency ..like dosa batter consistency.
3.Remove from the refrigerator and leave it aside till it comes to room temparature.
4.Remove vadas and add a pinch of salt and roasted cumin powder to yogurt and mix well.
5.Place Vada in a serving dish, pour spiced yogurt on it
6.Garnish with grated carrot and chopped coriander leaves.
7.Mosaru Ambode is ready to eat!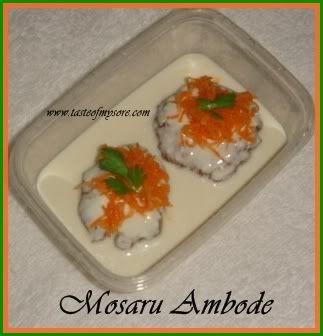 Ambode and Mosaru Ambode goes to
Sunshinemom who is celebrating brown color in food