Inspired by Mavinakayi Chitranna in 5 easy steps @
Churumuri
I made this at home and it was lipsmacking! Thanks Nagu for that Chitranna recipe from third rock of the sun :) The only modification that I made was using green chillies instead of RedC but that did not make a big difference to taste! You can read the article in Churumuri about the 'namma speciality'
Mavinakayi Chitranna.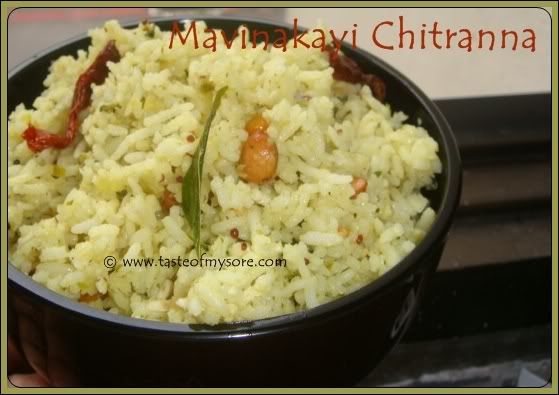 My way of
F
ive easy peasy steps
without exact measurement
...
1.
Cook rice till grains fall apart. Spread the rice on a plate and let it cool.
2
.Grind raw mango pieces from 1/2 mango along with ~ 2 tbsp of grated coconut, 8 green chillies (8 is too mcuh ..but we like it HOT) and 1 tsp of mustard. Do not add water to grind just make a coarse powder/paste
3.
Heat oil in a big pan, add mustard, asafoetida let mustard pop. Throw in about 1/2 tsp each of de skinned blackgram, chana dal and a big pinch of turmeric. Fry till the grams turn golden. Add red chillies and stir till the chillies pop it takes half a second. Add the coarsely ground mixture of mango etc to the oil. Switch of the stove
4.
Add rice and salt to the seasoning mixture and mix well. If mangoes are not sour add lemon juice at this stage. Garnish with coriander leaves if you wish.
5.
Scoop out Chitranna to a big plate and start filling your stomach ehehehee....
We don't eat Chitranna with any accompaniment (or most of the chitranna like varieties) but you may want to use your judgement to decide upon a side dish for this : )