Perhaps Chitranna, Uppittu, Avalakki are few items which I bet would not say 'no' when you are in a foreign land. Back home these are made on daily basis that say the name of uppittu........"plzzz amma don't give me concrete (we call uppittu as concrete.. ;D) to eat early in the morning"..this was my standard answer when I was a child. I have thrown enough tantrums for eating repetitive stuff ;) like this. To make chitranna/lemon rice more interesting I add few items and give it a bit of face lift. Atleast it does not sound the same old figure rice (Chitra=Figure Anna=Rice..translated from Kannada to English) Priyanka liked it as much as we like it so this is for you Priyanka.....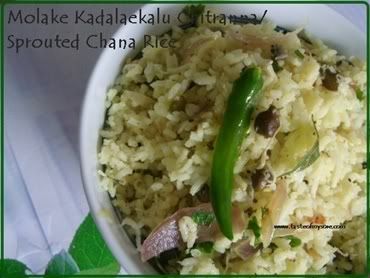 You need the following to make Kadalekaalu Chitranna/Chana rice
:
Sprouted Chana : 1 small cup about 2 fistfuls (cooked)
Onion : 1 medium sized (peeled, washed and chopped length wise)
Green Chillies : 5 (washed, wiped and cut lengthwise)
Cooked Rice : 4 cups
Tampering
:
Oil: 4tbsp
Kadalebele/Chanadal : 1tsp
Uddinabele/Uraddal: 1tsp
Curry Leaves : 1 line
Turmeric powder : 2 pinch
Seasoning
: Salt, and Lemon juice from 1 lemon
Garnishing
: chopped coriander, grated fresh coconut (optional)
Wash and soak green chana/brown chana (green chickpea/brown chickpea) overnight. Next morning, remove water and transfer it to a airtight container. Keep it aside in a dark place for next 24hrs and you have sprouted chickpea..if you don't see sprouts at 24hrs..you probably have give it another 12 hrs time. Here it is :
Procedure:
Pressure cook rice and let it cool. Rice grains should fall apart for this type of rice preparation. I keep a plate/bowl over the rice bowl and place chana in it. Chana gets pressure cooked with rice. Remove excess water from Chana. (Note: I do not add water to chana bowl when I place it inside the cooker).
In a wide non stick pan heat oil. When it is hot add mustard seeds and let it splutter. When it has stopped crackeling add Chanadal and let it brown and the add urad dal let it brown too. Now throw in green chillies and chopped onions. Add turmeric powder and give a nice stir. Fry onions till they turn transclusent and soft. Add salt & cooked chana, mix and switch off the gas.
Add cooked rice to the tampered mix and mix it well. Season with lemon juice and garnish with coriander leaves. Serve hot!
My way of enjoying Chana Rice
: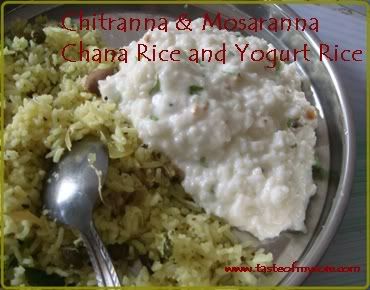 This goes to Grow Your Own event hosted by Jai and Bee..I hope it qualifies ;) GYO event was started by talented Andrea of
Andrea's Recipes