It is raining soups... these days at home. One of the reason to have soups on menu is to reduce the amount of rice that we eat at night and ......the idea is working!!! with some extra work. As long as it is healthy and helps to shed some weight that extra work is joyful for me.

The taste of Peas and Mint Soup is very different from the soups that I have had till date. The subtle aroma of fennel seeds gave us a nice feeling when we had it on our dining table. Fennel's carminative properties helps to relieve flatulence (because.... of eating?/drinking peas in large quantity).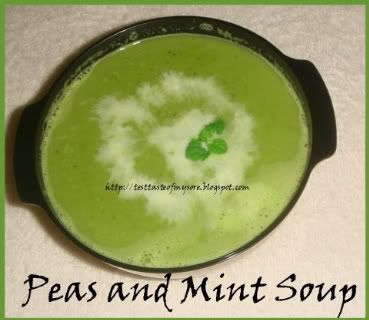 Recipe:
Peas : 3 cups (frozen or Fresh)
1cup measured approx 50g of peas
Onion: 1 small, cleaned and chopped
Garlic: 2
Fennel Seeds: 1tsp (roasted and powdered)
Mint: 3tbsp, chopped
Coriander Leaves/Stem: 1tbsp, chopped
Knorr Veg Stock Cube : 1/2 cube
Olive Oil : 2 tsp
Water as required
Heat olive oil in pan. Add garlic and onion, sautee till onions are transcluscent.
Add fennel powder, stirr.
Add chopped mint, coriander and peas and give a nice stirr. Add water and stock cube.
Cover and cook till peas are soft. Switch off the stove and let the bowl of liquids and solids cool down. Blend it in batches. Transfer the liquid to soup pot again.
Add salt, pepper powder and warm the soup.
Serve hot.....enjoy!!