Puilyogare/Tamarind Rice is a tangy spicy rice which is very famous in southern part of India. The thick tangy tamarind sauce mixed with rice and tampered with loads of (yes..loads of..) peanuts is a joy to eat! A bowl full of puliyogare any time.. is difficult to say 'NO' to a hardcore SouthIndian like me!! Saarina pudi (rasam powder) was out of stock and so puliyogare was made because fresh saarina pudi was made :D ..This time around I tried saarina pudi from
Iyengar's Kitchen
I was tempted to make
Puliyogare
when I saw it on her blog, so I made they were a grand success at home.
You need following to make
saarina pudi
:
Rasam Powder: For 1 kg
1/4th kilo – Byadagi variety red chillies
150g kilo- Guntur Chillies
3/4th kg – Coriander seeds
100 gms - Fenugreek seeds
100 gms - Cumin seeds
50 gms –Peppercorns
50 gms - Mustard seeds
1 tspn - Turmeric powder
½ tspn – Hing
4-5 strands – Curry leaves
Fry all the ingredients without oil separately. Grind it to a fine powder.
I have added 150 g more chillies than Veda has used to increase the hotness of the powder. Rest of the ingredients are same.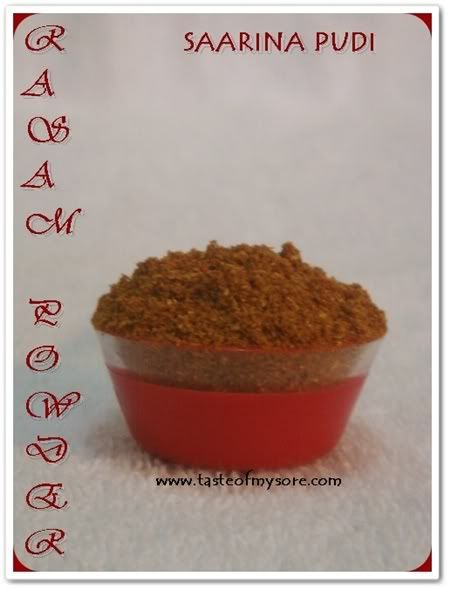 You just need to follow same
step by step procedures
as mentioned by Veda on her blog for yummy tasting Puliyogare.
You need the following to make Puliyogare Gojju :
Tamarind – 1½ cups
Oil - ½ cup
Mustard seeds – 1 tsp
Curry leaves – 4 lines
Asafoetida (Hing) - ½ tsp
Red chillies – 8
Rasam powder
– 8 tbsp
Salt – According to taste
Jaggery – 2 blocks
To make Tamarind rice from gojju prepared above you need the following :
Cooked Rice – 2 cups (grains separated
Oil - ½ cup
Mustard seeds – 1 tsp
Curry leaves – 4-5 strands
Asafoetida (Hing) – ½ tspn
Peanuts– Use generously
Grated Dry coconut – 2 tbsp
Pulioyogare gojju or concentrate prepared earlier – 3 tbsp
Salt to taste
Powders for seasoning:

Black Sesame seeds – 1½ tbl spns (don't add too much, although it enhances the flavors….it might get bitter if added in a large quantity) I have used white sesame seeds in my recipe
Peppercorns – 1 tspn
Coriander seeds – 1 tbl spn
Rasam powder – 2 – 3 tbl spns
For a detailed post on how to make puliyogare visit
Iyengar's Kitchen
This is for you....... :D
Sending saarina pudi to
Roma's Long live shelf event