We hindus celebrate Nagpanchami to pay respect to Nagas/Snakes. We offer milk and other offerings to Nagdevatas/Snake gods. We either worship the statue of Snake or offer milk to snake pits. One such offering which is made by most of us in Karnataka is Chigali Undi /Unde. It is a laddu made of black sesame seeds and jaggery. A simply simple preparation which is tasty. When laddu is made for offering, sesame seeds are not roasted. We make a separate batch of laddu's for casual eating where sesame is roasted. Here is how we make chigali undi/unde.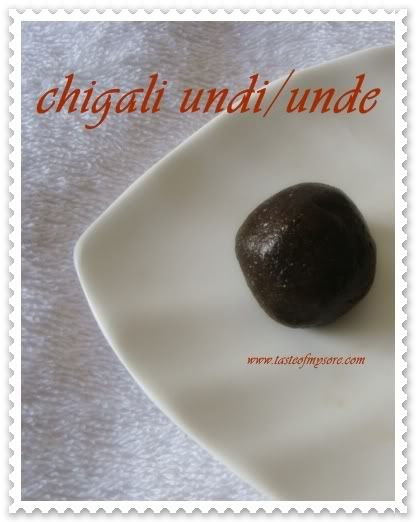 You need the following :
Black Sesame seeds : 1 cup (sesame seeds are cleaned and made free from dust)
Jaggery : 1/2 cup (grated)
Sprinkle little water over black sesame seeds and pan roast them. Sprinkling water avoids jumping (yes you read it right) up of sesame seeds from pan; Mix sesame seeds and jaggery and pulse it in a blender till sesame seeds are powdered and gets blended with jaggery. Remove from blender and make them into laddus. No ghee/oil needed to make these laddus. Enjoy them!
Edited to Add
:
If you feel that making laddus is not possible with the powder, just sprinkle little milk and then make laddus
.
Sending this undi/unde to SWC-Karnataka hosted by Sheetal of
My Kitchen
, to EC who is hosting
Color in Food
event , and to
Sweet series -Chikki and Laddu
by Paajaka
Dibs
says my blog header makes her nostalgic and she has passed me Brilliante Weblog Premio award. Thanks to you Dibs for thinking of me.
Sukanya
has give me BFF friendship award. Thanks Sukanya I will cherish this blogging friendship forever.
Suma Rajesh
has passed me rocking girl blogger award. Thanks Suma! You rock too :)!
I would like to give
Brillante Weblog award
to
Priyanka of
Asan Khana
Sowmya of
Creative Saga
Lore of Culinarty
Vanisri of
Illatharasi
Priti of
Indian Khana
Sheetal of
MyKitchen
I would love to pass
BFF gold friendship
award to :
Suma of
Suma's Cuisine
Maya of Konkan World
Purva Desai of Purvas Daawat
Sia of
Monsoon Spice
Sukanya of Hot n Sweet Bowl
EC of
Easy Crafts
Ramya Bala of
Ramya Cooks
SriLekha
of Me and My Kitchen
I would like to pass rocking girl blogger award to
Dibs
of Chitra Amma's Kitchen and Sukanya of
Sukanya's Musings