We at Karnataka celebrate Varamahalakshmi vratha on second friday of Shravana masa before full moon day. It is an auspicious day to worship goddess Lakshmi on this day and pray for your loved one's longeivity, health and wealth. Few of the informative posts on Varamahalakshmi Vrata :
Varamahalakshmi Vratha
from Our Karnataka
For a Kannadiga, a online pooja vidhana and other songs for this festive occassion can be found on
Kannada Audio
A colorful picture post on
Manglorean.Com
A short and sweet post by RK of
Rambling with Bellur
We celebrated the festival by making holige. Holige / Pooran Poli is made on festive days, it is a dish cooked for gods :-)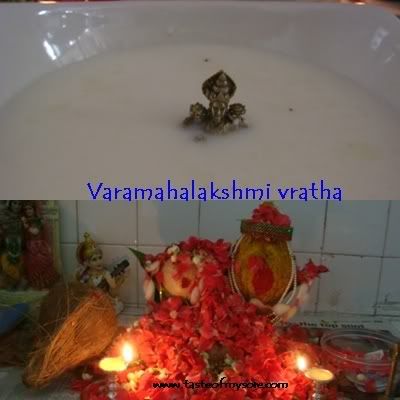 Festive day cooking is not a easy task! A complete meal which comprises of kosambari (Karnataka style salad), palya (stir fried vegetable), tovve (lentils), chitranna (lemon rice), anna (rice), holige(pooran poli) has to be made for offering when we worship goddess in the form of Kalasa (Coconut placed in between betel leaves on a cup of water). Other preparations for vratha itself would take a day of shopping for fruits, flowers, and other prayer materials. Day starts at 4AM in the morning; we get busy cooking for neivedya/offering, prayers should start from 630AM after a complete sunrise. Prayer is very procedural and a CD helps while we are in Singapore; back in India we have easy access to priests who come home to help us with procedures. Altogether it was pleasure celebrating :-)

Coming to Holige procedure, you can refer to my previous post of
Biliholige
for kanaka/skin making procedure for holige/pooran poli
The stuffing is made of split pigeon peas/togari bele/toor dal/arhar ki dal , jaggery/gur/gud and cardamom/elaichi/elakki
You need them to make holige :
split pigeon peas/togari bele/toor dal/arhar ki dal - 1 cup
Water - 5 cups
Jaggery - 1 cup
cardamom pwd - 1/2tsp
Turmeric: 1tsp
Method:
1.Bring 5 cups of water, turmeric to boil. Add split pigeon peas/togari bele/toor dal/arhar ki dal cover and cook.
2.Watch the vessel carefully as the water might spil, reduce the flame and cook for next 5-10 mins . Spoon out little dal and check whether the outer rim of the peas is cooked, if it is then switch off the gas and let the peas sit in hot water till you make
Kanaka
You can happily finish other kitchen work till the hot water of peas comes back to room temperature.
3.Decant the water from peas and add grated jaggery to it. Mix it over low flame till jaggery melts. Let it cool again. Reserve the water to make a sweet and spicy holige saaru*
4.Add cardamom powder and grind it in a mixer grinder with very very little water (only if required) to make a smooth yet thick paste of peas and jaggery.
5.Stuff this inside chiroti rava skin and roll out into thin circles on a non-stick food paper. Roast it with oil till they are red on both sides. Transfer the holige/poli to tava with the paper with holige/poli side facing the tava. Wait for 3 sec and peel the paper of from the surface. Repeat the same process for all holiges.
6.Apply oil generously to rolling pin,skin,holige while making it. Delicious holige is ready to eat with ghee or warm milk.
A collage on holige making :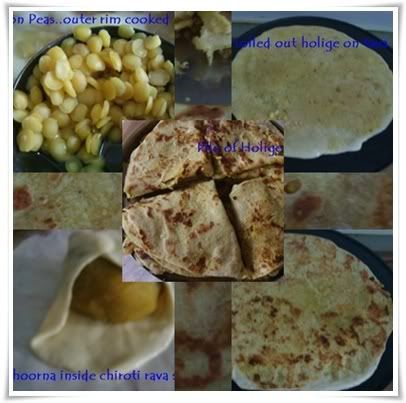 With the water you can make holige saaru*