North Karnataka cuisine can be found in the districts of Bidar, Kalburgi/Gulbarga, ballary/Bellary, Bijapura, Raayachooru/Raichur, belagavi/Belgaum, Dharwada, Gadag, Haveri, Koppala. Any Kannadiga would love to eat Jolada Rotti oota ...A typical North-Karnataka thali would have Rotti, Eggplants (stuffed), hindi/powder, ranjaka (ultra hot chilli chutney..fire engines are not enough to blow the gastric fire!), palle (vegetable), gattisoppu (lentils and greens) , Kosambari, Huggi (broken wheat payasam), mosarubajji (salad vegetables in yogurt), raw salads like jajjida eeruli (just give a blog on onion to break it, deskin and eat !), raddish, cucumber, and rice. The thali varies from house to house......all creative cooks at home have a different way of making their meal lipsmacking! One cannot just forget that rustic jolada rotti with badane palle ...after that oota (lunch) you would get determined to visit Kamat Yatri Nivas or a nearby rotti hotel again. Traditionally rotti is made by patting the wet sorghum flour with hands....to make a think crispy rotti which can be stored for a long time. Basically it is a zero oil Indian flat bread.
Growing up in the districts of Chitradurga and Davanagere..where the food has loads of North Karnataka influence..it was easy to make a simple jolada rotti oota. I make it often at home so it was not special at all :D
I would blog gattisoppu after December, when I visit India. The resources to make this tasty palle (vegetable) is too good in India than in Singapore and I can get it done from my grand mom which would be more tastier! :-)
Jolada Rotti (Sorghum flour Indian bread)
You need :
Jolada hittu : 2 cups
Water : 1 cup
Salt
Boil water with salt and when water is boiling add flour and reduce the heat. Let it boil for 3-4 mins. Remove the vessel from heat and stirr it well with a wooden stick. Cover the vessel and let it sit till the dough comes to room temperature. Spoon the dough to a big plate and mix the dough well, break all the lumps and make a uniform dough. Make orange sized balls of the dough and roll them out into rounds. Roast them on a girdle.
How to fry/roast rotti : before you turn over the bread and fry the other side, sprinkle little water on the top and let it sit for few seconds. Now turn over the bread to the other side and fry till brown. Here is a collage :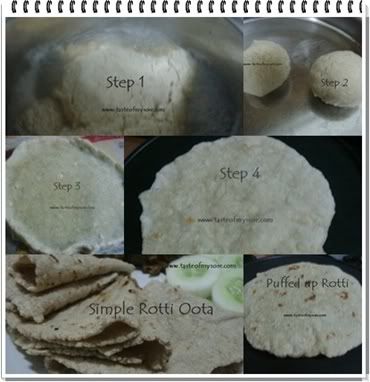 Stuffed Eggplants :
Ingredients :
For about 8-10 very small eggplants
Peanuts- half cup (roasted and deskinned)
uchellu (niger seeds) powder - 1tsp (you can use more to enhance the flavor of eggplant dish. You can substitute this with black sesame seeds but taste is not the same as you get by adding these seeds.
black sesame seeds - 1/2 tsp ( I have used little here
Garlic : 2 (size of one whole garlic here in Singapore is too big..so people can adjust this according to the taste they need)
coriander seeds - 1tsp
roasted chickpeas/chanadal/hurgadle/huridakadale -1/2tsp
roasted chanadal & urad dal mix - 1/2 tsp each to make 1tsp
coriander leaves - 1/2 cup
grated fresh coconut -1/2 cup
saarina pudi/sambar powder- 2tbsp (you can use dried red chillies and sambar pudi mix)
dried red chillies - 5 (adjust according to taste)
tamarind juice -3tbsp
jaggery - to adjust flavor
salt
few ingredients :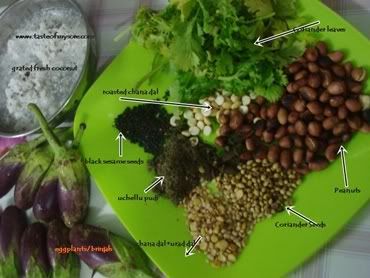 Deskin peanuts, pan roast all dals, coriander seeds, sesame seeds, red chillies. Coarsely powder peanuts, let it be chunky. Keep it aside. Take rest of the dry ingredients and blend it a nice powder. Add grated coconut, coriander leaves and blend to make a paste. Use little water to blend and make a paste. Add chunky peanut powder and pulse it. Remove to a bowl, add salt, tamarind juice and give a good stir. Give a slit on the bottom of the eggplants in the shape of a 'plus'. By doing this you have preserved the cap (stem part) of brinjal. Stuff the paste into brinjal and let it aside for next 10 mins.
Oggarane/ Seasoning :
Oil - 5tbsp
mustard, curry leaves, chopped onion from 1 big onion, turmeric powder a big pinch
Heat oil in a thick bottomed pan (i use cooker pan) and add mustard seeds. Let it pop, now add curry leaves, onions, and turmeric powder and give a good stir. Cover and cook till onions are soft. Arrange the stuffed egg plants and pour the remaining sauce over it cover the cooker lid and pressure cook for 1 whistle. When the cooker cools down, release the pressure and open the lid, mix the ingredients gently. You may want to adjust flavors using grated jaggery. Serve hot with any indian bread, but best is with jolada/sorgum flour rottis.
How I made stuffed brinjal/tumbida badanekayi palya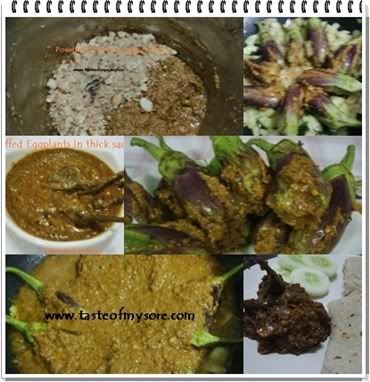 Shenga Hindi :
Peanut chutney powder is called Shenga Hindi. A South Karnataka way of making chutney powder is a little different from North Karnataka style. I took this recipe from Harsha Bennur's
Ootak Enaithri
Harsha Bennur has some exotic North Karnataka style recipes on her blog. Thanks harsha for sharing shenga hindi recipe. Recipe from
here
Shenga Hindi can be kept outside the fridge for atleast two-weeks. It has no coconut in it and that makes it easier to store!
Our meal is not complete without Mosaranna (Curd Rice) here is how we make it:
Rice - 1 cup
Curd-1cup
Milk - 1/4cup (optional*)
Grated ginger and garlic -1/2 tsp
Salt
Chopped coriander leaves for garnishing
For tampering : Oil, Urad dal -1/2 tsp, green chili -1 cut into rounds, curry leaves - few,
Mash rice with salt. Add curd and mix well. Make tampering and pour over the curd and rice mix.
* If you are making the curd rice before hand, add milk and mix before you serve the curd rice. Garnish with coriander leaves and serve.
Finally a picture of all four together !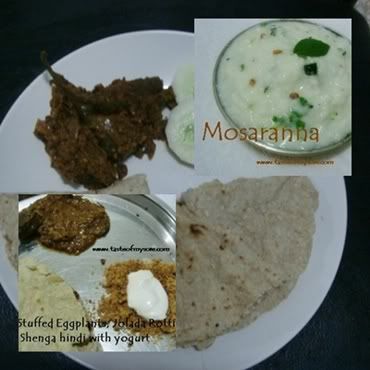 phew...! I am publishing it now..you all enjoy rotti oota while I take a break and have my lunch :-)
I am sending the whole thali to
Sheetal
for SWC-Karnataka, stuffed brinjal curry to Srivalli for '
Curry Mela
,' and Shenga Hindi for '
Long Live the Shel
f' event of Roma of Roma's Space
Few more entries going to curry mela from TOM:
All excited to see variety of curries in the round-up. Thanks for hosting Sri.