Gojju is a way Karnatakites savor their vegetables in gravy. You can find 'n' number of gojju's and I loose count every time I make an attempt to keep track of them. There are variations to the recipe which makes them different, different vegetables used in preparing gojju's gives them a new taste.
Each region has it's own way of making! As we move north of Bangalore and reach Chitradurga, Davanagere you see Javalikayi/
cluster beans
gojju, avarekaalu/surti papdi gojju, mix vegetable gojju, ...list goes on..South of Bangalore..Mysore etc have most popular tomato gojju, mango gojju, menthe menasu gojju etc so we have different gojju's altogether. I have not made an prompt attempt blogging all the gojju's mentioned above.
It is most important (in my house) to find an appropriate partner for gojju, ex javalikayi gojju/cluster beans gojju goes well with joalada/sorgum flour rotti and dose, avarekaalu gojju for joalada/sorgum flour rotti and akki rotti, ufff...so basically you know how we have complicated our lives by matching and pairing them up with certain Indian breads/rottis. But believe me that is the best way to enjoy them :) Now..why did I tell gojju purana? here..oh ya..I have raw mango gojju on menu :D which can be paired with hot plain rice :) simple isn't it?
Raw Mango Gojju (Makes enough for 2 people)
Guest of Honor of the dish :
Raw Mango
: 1 washed and cut into bite sized pieces with skin
Taste a piece of mango and you will know the sourness levels of mango. Use tamarind accordingly. Jaggery is used to mellow down the sourness of the dish.
Powder :
Dry grated coconut : 2tbsp
Coriander seeds : 1.5tsp
Fenugreek Seeds/Menthe kaalu/methi daana: 2 seeds
Red Chillies : 4 (adjust according to the hotness levels required)
hurkadli/Huridakadale
(split dalia) : 1tbsp
EDITED TO ADD: in case u don't get huridakadale fry and add a teaspoon each of Chana dal/Kadalebele and Urad Dal/Uddinabele
Dry roast coriander seeds, fenugreek seeds, redchillies on a hot pan and powder it with coconut and split dalia. Empty the powder to a dish and mix it with half cup of water to make a paste.
Tampering :
Oil, mustard, turmeric, asafoetida/hing & curry leaves
1.Do the tampering in a vessel you intend to make gojju. Allow mustard to crackle fully before you add other ingredients to hot oil.
2.Add raw mango pieces after curry leaves. Stir nicely and add 2 cups of water and cook under medium flame with the lid closed.
3.It takes about 5-6 min for mangoes to cook. Keep checking.. When mangoes are soft ie., when you insert a fork into a piece it should pierce with ease ..
reduce the flame or switch off the stove
& add the paste that you have made and keep stirring. Add salt.

If you do not stir the mixture paste will stick to the vessel

4. Bring it boil and add little more water if required. Keep the final dish little thick/viscous (?)
5. Taste to see if you have to add any jaggery to mellow down the sourness of the dish. Adjust flavors accordingly. Serve hot with plain rice.
Eating Tip
: Half a tsp of ghee with mango gojju makes gojjanna(gojju+rice) a tasty morsel :)
I want to eat it again :D do you?....prepare it to know it!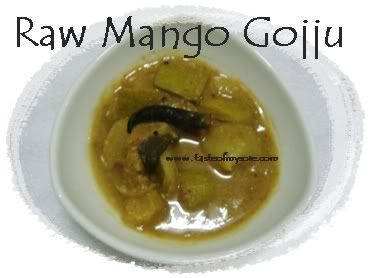 Other Gojju I have on TOM :
Bendekayi Gojju/Okra in Green Sauce
Sending this to SWC-Karnataka hosted by Sheetal of
My Kitchen
Sending this bowl of Gojju to Srivalli for her
Curry Mela
event