Sprouted Hasiru(green) kadalekaalu (chana) is a rich source of B series of vitamins. It has been ages since I feasted on fresh green chana available in India. There were days when we waited to see fresh green chana in markets. I don't exactly remember which month of the year we saw them in abundance, but they tasted awesome! Avarekaalu (surti papdi) dishes galore between the months of Dec-Jan, green chana dishes rock the menu when they are available in the market. I was able to find dried green chana in Mustafa after a loooong time. I happily bought 2kilos!!! I adore all types of beans and I remember to make them atleast once a week.
This is a simple vegetable using yard long beans (alasande beans/karamani) and sprouted hasiru kadalekaalu (green chana).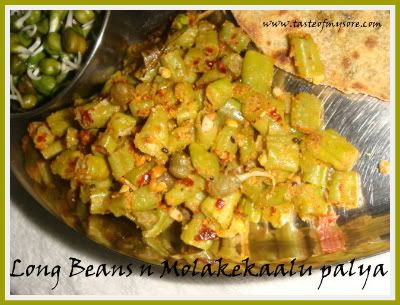 You need the following to make them :
Yard Long Beans : 3 cups (washed and chopped)
Sprouted Hasiru Kadalekaalu : 1/2 cup (green chana)
I have steamed both of them separately till they are fork tender.



To blend :


Dry Coconut Powder/shavings/peel : 2tbsp
Guntur chillies/Red Chillies : 3 (adjust according to your taste)
Jeerige/Cumin: 1tsp
Salt
Dry roast red chillies on a hot pan till they are crisp. In the same pan fry cumin for few seconds.


Cumin will turn brown and bitter if they are over roasted. Please be careful while roasting

cumin.




Blend all the above to make a fine powder and keep the powder ready.





Tampering :


Oil : 1tbsp
Mustard: 1/4 tsp
kadalebele/chanadal: 1tsp
Uddinabele/Urad dal: 1tsp
Curry leaves : from 1 line





How to make :


Heat oil in a pan/woke/... When oil is hot add mustard. When mustard stops spluttering, add chanadal when they start changing their color add urad dal. Fry both till they are golden brown. Add curry leaves and steamed vegetables follow the row. Give a nice stirr. Sprinkle the dry coconut n chilli powder over it and stir and fry for next 1-2 min. Switch off the gas. Cover it with a lid and set it aside for 5-10 mins before you serve/till falvors settle down. You may like to garnish with chopped coriander before serving. I served them with rice. You can find recipe for crispy methi thepla's/debra here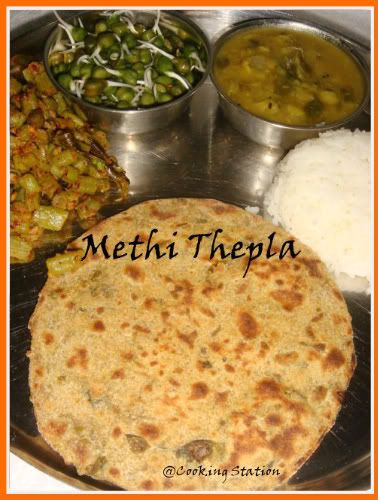 Now it is the time to give awards which I got from my dearest fellow bloggers.

Good Chat Blog Award

Priyanka of Asan Khana had passed me this award and I accept that I am chatty. I would love to pass this on to
Sukanya of
Sukanya's Musings
Nupur of
Cinnamon Hut
Shifa Firoz of
Voiz Out
Prajusha of
I Cook I Post
Nice Matters Award
Priti of
Indian Khana
Vanamala of
Nalapaka
Coffee of
The Spice Cafe
Anupriya of
My Space
You Make My Day Award

Pooja of
Creative Pooja
Nithu of
Spicy Tasty
Asha of
Foodies Hope
Vanisri of
Illatharasi
Sowmya of
Creative Saga
Mrs.SriLekha of
Me and My Kitchen
HariPriya Reddy of
Indian Hut
Priyanka of
Asan Khana

Inspiration Award

I would love to pass on this award to Bellur of
Rambling with Bellur
who has always been my inspiration to comic creation. He inspires, keeps you occupied on his blog.
Thanks Bellur for inspiring with your comics I love your blog.
Bureka Boy
inspires me with his detailed recipes, tips, clear, mouth watering and simple pictures. He is a awesome baker who blogs ME cuisine. Check out his blog for mouth watering recipes.
There are many bloggers around who blog with altruism and give away useful tips/tricks about technology, blogging, food etc. They all are a true inspiration to me. I love them all.
Blogging with a Purpose
Sireesha
of Mom's Recipes has passed me this award. Thanks Sireesha.
There are few bloggers around who blog with a purpose of sharing good information. Their sole purpose is to share their knowledge. If you are a tech challenged blogger like me, you can check out few good tips and step by step instructions here :
http://tips-for-new-bloggers.blogspot.com
http://tricks-for-new-bloggers.blogspot.com
I am not sure whether they are going to pick up this award, but I would love to pass this award to them. Their blog has helped me a lot.
Siri of
Siri's Corner
and DK of
Culinary Bazaar
started Dining Hall with a purpose of providing forum to bloggers to discuss and share their views. This award jointly goes to Dining Hall makers. Not to forget Indira of
Mahanandi
who was a brainchild of Dining Hall, she is a inspiration and a blogger who managed Dining Hall for more than a year. Thank you Indira, DK, and Siri.
Sailu of
Sailus Food
who gave us wonderful blog aggregator
TasteofIndia
. Thanks Sailu!
Sireesha
, this award goes back to you for the purpose of sharing your mom's tasty recipes.
Many thanks to all my dearest bloggers for showering me with these awards. They mean a lot to me. Congratulations to all those who are receiving awards from Taste of Mysore. Enjoy them and pass them over!
The link to all award pictures can be found
here
.Please feel free to use them.