My son is a die hard fan of Pizza. There was a constant request for pizza at home from long time. Whenever there is a request all I do is to buy a PPP for him from a near by fast food center :D ..
but Akash wanted to make pizza at home this time .. so I went on buying pizza base and pizza toping ingredients. He helped me to top the pizza and also ate it with lots of happiness. Priyanka's Pizza making episode on
Asan Khana
was on my mind ..so took her recipe for making Pizza. Thanks Priyanka for sharing your recipe. Just followed her recipe and deleted chicken from her recipe to have a yummilicious Pineapple vegetable pizza :)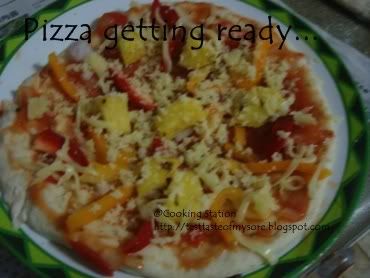 For Pizza Sauce
Oilve Oil
Chopped Onion
Chopped Tomatoes
Italian Mixed Spices (storebought) & salt
(Ingredients: Marjoram, Thyme, Rosemary, savory, Sage, Oregano and Basil)
No measurements..here just sauteed onions in hot olive oil and added tomatoes and when tomatoes were mushy added spice mix, salt and the sauce is ready to go on pizza base
Pizza Topping :
Red Bellpeppers
Yellow Peppers
Onion
Pineapple
Mozzarella cheese
red chilli flakes (optional)
Spread pizza sauce, then arrange all vegetables and sprinkle generously mozzarella cheese over the vegetables. I did not bake it in a oven. I have two tawa (girdles) so placed one over the other and heated them on medium flame. Placed Pizza on tava and closed the lid and cooked it till cheese melted and the crust was crisp. By then even vegetables were soft. Remove from girdle and enjoy it hot! This goes to
A.W.E.D Italian
hosted by DK of Culinary Bazzar.
I made these tanda tanda cool cool Kear Mango Kulfis from
Namratha's blog
few weeks ago..Thanks Namratha..we all loved it. I am sending them to
Color in food
event hosted by EC of Easy Crafts blog,
Theme of the Week - I-day
event and
IceCream and Milkshake
event hosted by SriLekha.
You can check out Namratha's blog for detailed recipe of making mango kulfi. Here is a summed up recipe...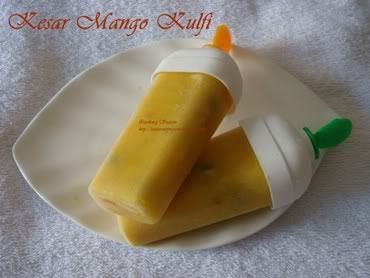 You need ; agar agar, Mango puree, condensed milk, Saffron strands, chopped nuts (cashews and pistachios)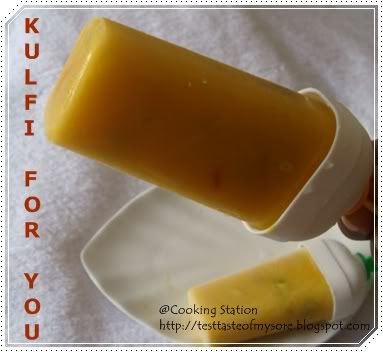 Soaked saffron strands in 1tbsp of milk. I dissolved agar agar in hot water (about 2-4tbsp of water. You need to chop agar agar strips to fine pieces before you dissolve. Mix a cup of condensed milk, cup full of mango puree, dissolved agar agar, saffron strands along with milk and finally added chopped nuts and poured it into molds. Refrigerated for a day before I served.